Social and Uniforms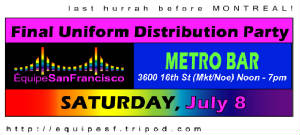 FINAL Uniform Distribution Party
@ METRO Bar
Saturday, July 8
Noon-7pm
Pick Up Your Uniforms, T-shirts and Pins!
Pick-up your Outgames Opening Ceremony uniforms (jacket and hat), as well as any other team merchandise you purchased (t-shirts, tanktops, trading pins) at our
Final Uniform Distribution Party @ Metro Bar
3600 16th Street (Market & Noe)
Saturday, July 8th
Noon - 7pm
Caveat: No uniforms or team merchandise will be transported to Montreal, so you MUST pick-up your items at the July 8 event. If you are unable to attend this event, please contact Brian Jung at
equipesf1@yahoo.com
immediately to arrange for alternative plans. Only a very limited number of opportunities to pick-up your items at Brian's home will be available.
1st World Outgames Montreal 2006....here we come!
See you at METRO BAR on Saturday, July 8 from Noon to 7pm!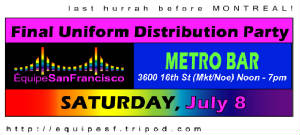 Hotels
Equipe SF has an exclusive arrangement with
Rainbow High Vacations
(RHV) to secure
the
best hotel rooms in Montreal for the Outgames festivities. The Gouverneur Place Dupuis and Lord Berri Hotels are literally on top of the central Metro station that will take you to all four Outgames Sport venues WITHOUT the need to transfer. Other accomodations include the Royal Victorian Residences at McGill University, and the Holiday Inn Express suites, which are also well situated and very attractive for larger teams on a tight budget.
Our deal with RHV is an exclusive that ensures us guaranteed reservations at the most desirable hotels. RHV has advised us that while they can book our air travel, we're probably better off going online individually to get the best discounts on flights.