Bonjour and Welcome to Equipe San Francisco...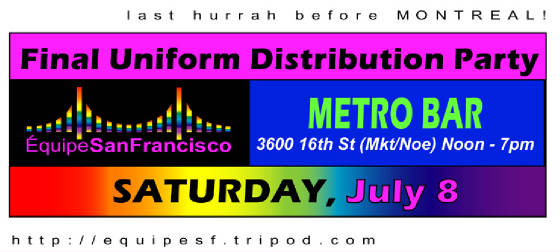 Final Uniform Distribution Party
Metro Bar
Saturday, July 8th
Noon - 7pm
No unclaimed uniforms or team merchandise will be transported to Montreal, so please be sure to pick-up your uniforms at the July 8 event. T-shirts, tanktops and trading pins will also be available for pick-up. A limited number of extras will be available for purchase while supplies last. Equipe SF members provide your own black shorts/training pants and white t-shirt to wear underneath the jacket at Opening Ceremonies in the Olympic Stadium.
Fabulous 48-Days-To-Go-Party @ Metro!
Equipe SF enjoyed a great turnout at our 48-Days-To-Go Party at Metro Bar in the Castro on Sunday, June 11th. Many members travelling to Montreal picked up their fancy new team T-shirts and trading pins, but there were still many unclaimed team merchandise items left.
Our
LAST UNIFORM DISTRIBUTION PARTY
will be on
Saturday, JULY 8th
@ Metro Bar (3600 16th Street at Market and Noe) from Noon to 7pm. This will be the final uniform distribution event, so if you cannot make it, please contact Brian Jung at
equipesf1@yahoo.com
immediately.
CAVEAT: No uniforms or team merchandise will be transported to Montreal and there will be no additional uniform distribution events after July 8th. Opportunities to individually pick up team merchandise at Brian's home will be very limited, so please be sure to attend our party on July 8 or have someone pick up you items for you at that time!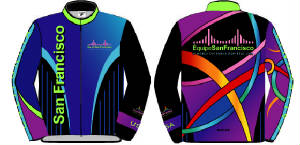 The Equipe SF jacket design incorporates our team logo as well as variations on the Gay and Lesbian International Sport Association/GLISA logo (seen without variation in orange on the right sleeve). The "swoosh" outstretched arm and circle head of the
GLISA
logo, which represent the open and welcoming hand of friendship and support through sport, are done in a "rainbow" of colors that represent the great diversity of our LGBT worldwide community, symbolically intertwined and gathered together, much like we will be in Montreal for the 1st World Outgames 2006. A rainbow-colored "Pride" version of the Equipe SF logo is found on the lower left sleeve, above the "USA" emblem. The right sleeve features the word "CALIFORNIA" while our hometown "SAN FRANCISCO" is prominently featured on the front.
Equipe SF members provide their own black shorts/training pants and white t-shirt. The jackets along with the green bucket hat and Equipe SF logo complete the outfit.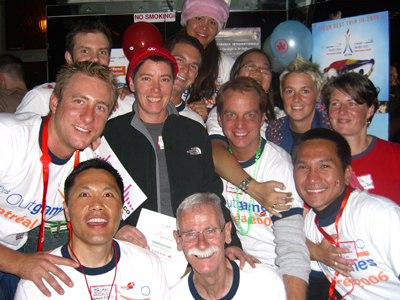 Triathlete Wins Free
Air Canada Ticket!
Kathy Fleming (center with red cap) of San Francisco was the Grand Prize Winner at the Equipe SF Welcome and Registration Party held at The Cafe on Saturday, October 22nd. The event was a huge success and attended by hundreds of athletes, artists and supporters of the team headed to the 1st World Outgames Montreal 2006.