Bonjour and Welcome to Equipe San Francisco...
Order Your SF TEAM UNIFORMS Online!
The custom-designed opening ceremony uniforms for Equipe SF are now available for you to order in our new eStore! The uniform, which wil be required to march with the team into the Olympic Stadium on Saturday, July 29, 2006 consists of a lightweight, breathable microfibre jacket and matching bucket hat. The total cost is $80.00 inclusive of all taxes and online processing fees.
Not Sure of Your Size?
Join us for our
Equipe SF Uniforms Try-On Party at Lime
, 2247 Market Street, on Monday night, February 13th from 6pm - 9pm, and try on some sample sizes. Enter the free drawing that night (for Equipe SF Members that have paid-in-full for their uniform) and win a stylin' dinner for two at Lime! We'll be giving away other goodies as well, so come early and stay for all the fun!
Newsflash: We just got word that the Bay Area Reporter will be covering this event, so make sure you do your hair and nails...and SMILE! There WILL be photos!!!
The Equipe SF jacket design incorporates our team logo as well as variations on the Gay and Lesbian International Sport Association/GLISA logo (seen without variation in orange on the right sleeve). The "swoosh" outstretched arm and circle head of the
GLISA
logo, which represent the open and welcoming hand of friendship and support through sport, are done in a "rainbow" of colors that represent the great diversity of our LGBT worldwide community, symbolically intertwined and gathered together, much like we will be in Montreal for the 1st World Outgames 2006. A rainbow-colored "Pride" version of the Equipe SF logo is found on the lower left sleeve, above the "USA" emblem. The right sleeve features the word "CALIFORNIA" while our hometown "SAN FRANCISCO" is prominently featured on the front.
WARNING: LAST DAY TO ORDER is MARCH 1st.
All orders and payment must be made online through our e-Store.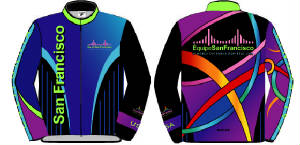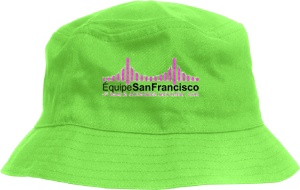 Click Here to learn more about the Equipe SF Opening Ceremonies Uniform and Optional Items available in our e-Store
Remember to order some trading pins! With nearly 100 different countries sending athletes and artists, you'll want to have plenty of Equipe SF pins to trade.
.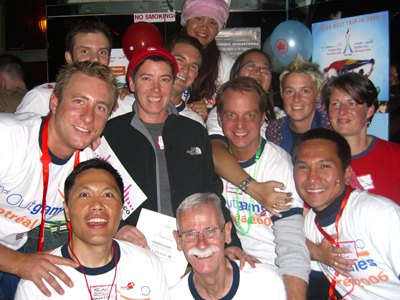 Triathlete Wins Free
Air Canada Ticket!
Kathy Fleming (center with red cap) of San Francisco was the Grand Prize Winner at the Equipe SF Welcome and Registration Party held at The Cafe on Saturday, October 22nd. The event was a huge success and attended by hundreds of athletes, artists and supporters of the team headed to the 1st World Outgames Montreal 2006.